This is how I'm feeling about this weather right now.
THIS DAY IS TOO GREAT FOR THE BLAHNESS:Heat:Humidity
Either way, it's still going to be a good week.
Why?
BECAUSE OF ALL OF THIS.
Tonight
Dance party with James Murphy and co [LCD Soundsystem] At Stubbs [doors at 530]
Dance Party with Andre, Bloody Shy, and Avant [Miike Snow] at Antones. Doors at 8.
The either Miike Snow DJ set after party at Mohawks OR
RSVP BEFORE 5pm
[for $5 cover]
for Learning Secrets Beauty Bar DFAish Afterparty
Don't forget Tuezgayz as well. xxx
Goodness, Tuesday, raping the mouth of everyone in such passion.
Wednesday is another installment of From The Mind of Adi at Mohawk being headlined by The Frontier Brothers.
Remember, these start early, so go get your drank on, while still getting a good nights rest. [especially to those out tuesday night]
Thursday....I'm stoked for this one.
The actual day is today [Happy birthday RICHARD!!!] but we are celebrating this amazing man's old age on Thursday at the Parish.
RSVP for cheaper cover [$6 with rsvp, $8 w/o]!!
at Do512
Doors at 9pm!
Set Times:
The Redboys - 9:50
Politics - 10:15
Love at 20 - 11:10
L.A.X - 12:10
And he's giving us enough time at the end of the night to head over to Barbarella for some Grits n Gravy. <3
Seriously, Richard, this town lerves you!!
Also, if you would like, Sailor Jerry will be at Beauty Bar from 11-12 handing out free cocktails Thursday evening as well.
Friday- rest and relaxation, or full steam ahead!
Your choice.
Sailor Jerry will be out Friday night
Side Bar 11:30-12:30
Creekside 1am-2am
Saturday is a big deal as well. We've got some shit to rap about.
June 12th is Sailor Jerry Day!!
And what do you get via celebration for America's Tattoo God Father day??
Booze and BBQ all on Sailor Jerry's tab as well as a live performance from the bamd,
HONKY
Followed by a free screening of the renown documentary on Norman 'Sailor Jerry' Collins himself, including more booze ;)
RSVP
here
Reminder, must be 21+
There's also the Electric Aquatic Club Voyage. 5-8pm on town Lake
Festivities include Fresh Millions performing, Tito vodka beverages at your disposal, Gary the psychic, a magician, and great great people.
Sign up to join the voyage
here
I went on a handful of these last year, and shitballs, that was a good time.
You will find many #HTMers on ship
Then, finish off the night in 'chronic vibrations'
Knuckle Rumbler team does it again.
Scion presents CHRONIC VIBRATIONS- Dr Dre vs The Beach Boys
Sponsored by Republic Tequila and Sneak Attack Austin
June 12th at The Scoot Inn
$3 entry with RSVP at Do512
FREE ENTRY WITH ONLY SWIMSUIT [and shoes] or LOCS SUNGLASSES
Take that, take that.
Sunday
You can rest up then hit up Mad Classy or have my life and play in THE kickball playoffs. Geux Grackles!!
OR in case you couldn't make it on Sailor Jerry Day, they are having TWO MORE screenings of the film,
Hori Smoku: Sailor Jerry
on Sunday and Monday night at 9:30pm.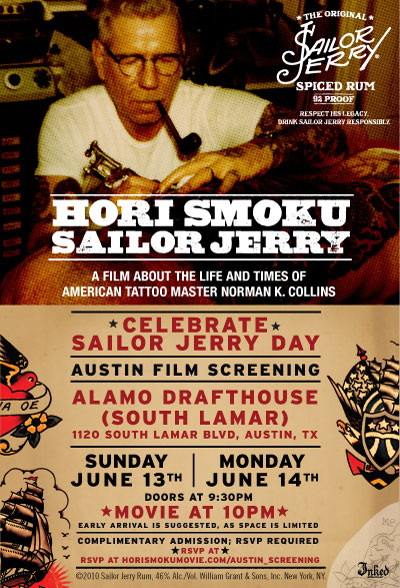 You still have to RSVP for that, but you can do that
here!!
Jesus, it's another week for the record books.
I'll see you on the other side.
xo
'legs